Enriching and enlightening classes designed to enhance your own growth in a fun way. You will discover information that can help you live your best life! Join us!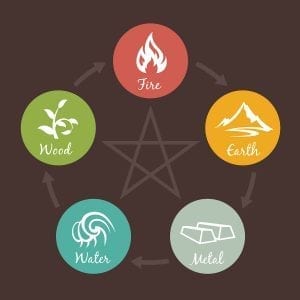 Get to Know the Five Elements Theory At Work in Your Life
Program 1:  Earth
Program 2:  Metal
Program 3:  Water
Program 4:  Wood
Program 5:  Fire
Five Tuesdays – 7 pm to 8 pm – April 5th – May 3rd
The Five Elements Theory is an eastern healing system that helps us understand the fundamental balance of the natural world, both within ourselves and its outer expression.  We will take a look at each one separately and talk about how they interact.  Five elements theory has many uses, most notably in acupuncture (meridians, or energy flows) and other eastern medicine practices.  In her book, The Natural Gourmet, Annemarie Colbin uses the theory to help us learn how to balance our diet for optimum health.  Also you will find the theory at work in feng shui, in balancing one's surroundings.
This is a fun class – no heavy theories – that may help unlock some mysteries for you, and hopefully provide a few "aha" moments along the way!
$170 for the 5 Element series